Home > News & Info > Our News
News
What is your impossible dream?

The year of the Monkey!

The Journey starts April 28, 2016
Full Price Tuition:
The Journey (Breakthrough and Leadership): $3290
Breakthrough: $2195
Special Year of the Monkey Scholarship:

Breakthrough: $1495 (saves $700)

Journey: $2495 (saves $795)
---

Freedom Pass
A continuing education membership that allows graduates access to our weekend workshops for a nominal monthly subscription fee. Register Now! Learn More
---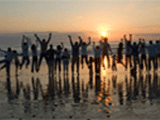 Abundance and Prosperity
Love, Money, and Time to Enjoy It
Leave scarcity behind and tap into the richness and fulfillment of abundance. You will learn fundamental principles that will allow you to live an abundant and prosperous life and transform your relationship with money, time and people. Open to the general public and all graduates.
When: Saturday and Sunday, November 7 - 8, 2015
Tuition: $495.00. (No cost Freedom Pass) Enroll or Read more
---
NEW – A 30 minute Guest Information Call
A Quick and Easy way for you to learn about Legacy Center! Hear from graduates about what they have accomplished. Learn about what we stand for and how our trainings work.
Listen to a recorded call Now!