Practical Mastery
A quick Transformational Tune-up
Are you smarter than a Pig?

Practical Mastery is a two-day workshop where you can learn mastery practices to optimize your focus, connection, and flow in the moment. Create a space of clarity within yourself so that you can be a clean space for people. Enroll if you have or have not done the Masters Course. When: May 31 - June 1 (Saturday - Sunday) Who: LP and SLPs. Cost: $395, No Cost for Freedom Pass Members. Enroll or call 919-678-6000.
A special Gift to Graduates! To appreciate you for being a stand in the world, we are offering this tune-up for only $99.
---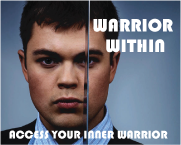 Warrior Within
Intense Risky Challenging Uncertain
Think you're a leader?
Think you're a team player?
Think you're a person of honor?
Think again.

If you want to know what you are really made of, and access your Inner Warrior at a deep level this is your chance. Tap into the best of you every day Have your Warrior Spirit extend into all aspects of your life. When: July 25 - 27 (Friday night, Saturday, Sunday). Tuition: $495 Who: Breakthrough II. Enroll or call. 919-678-6000.
Hear from graduates about what they have accomplished. Learn about what we stand for